Functional Range Release®
HONG KONG - Mar 1 - 3, 2019
LONDON, UK - Apr 10 - 12, 2019
TORONTO - May 3 - 5, 2019
STOCKHOLM - September 20 - 22, 2019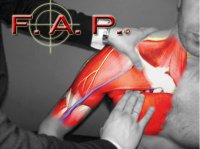 These seminars offer advanced instruction in soft-tissue palpation and assessment to manual-therapy practitioners including Physiotherapists, Chiropractors, Massage and Athletic Therapists, Osteopaths and Medical Doctors. F.A.P.™ seminars are designed to teach practitioners to quickly and efficiently locate and assess specific anatomic structures in order to improve diagnostic and treatment specificity. Improved manual-palpation skills enhance soft-tissue assessment skills and add specificity to any form of manual care. Functional Range Release® (F.R.) Technique is a revolutionary soft-tissue treatment and rehabilitation management system. F.R.® soft-tissue management expands on the basic tenets of myofascial-release treatments by simultaneously assessing, expanding, and instantly strengthening the functional range of motion of your patient. F.R.® seminars provide manual-medical professionals instruction in this innovative treatment system which some refer to as the new gold standard in soft-tissue injury management.
(For more information please contact info@physicalmed.gr)
Functional Range Conditioning® (FRC)
AMSTERDAM, NED - Feb 10 - 11, 2019
LIVERPOOL, UK - June 8 - 9, 2019
ATHENS, GRE - September, 2019
Developed by world-renowned musculoskeletal expert Dr. Andreo Spina, Functional Range Conditioning, or FRC®, is a system of mobility training based in scientific principals and research. Mobility, defined as flexibility plus strength, refers to the amount of USABLE motion that one possesses across a particular articulation (joint). The more mobile a person is, the more they are able to maximize their movement potential safely, efficiently, and effectively. FRC® Seminars teach participants, ranging from manual therapists, to personal trainers and strength and conditioning specialists, how to improve mobility in both their clients, as well as themselves. More importantly, workshops explain the scientific basis behind this new and invaluable system. Participants come away not with a simple list of exercises, but a greater understanding of the musculoskeletal system, and the tools needed to implement FRC® methodology in the training/ rehabilitation programs of patients, clients, or themselves.
(For more information please contact info@physicalmed.gr)